Enquiry about Clinical Skin Clear device
The Clinical Skin Clear (aka Lamprobe 4000), developed by Hubert Lam, is a unique radio frequency instrument for the effective treatment of a wide range of common minor skin irregularities without penetrating the skin's surface.
Clinical Skin Clear treatments are exceptionally quick (in most cases done under 3 minutes), with instantaneous results. One treatment only is required.
Skin conditions effectively treated by the Clinical Skin Clear include:
Telangiectasia
Clogged pores
Spider naevi
Fibromas
Pimples
Acne
The discomfort level experienced by the client is tolerable, with the sensation produced feeling much like a tight pinch to the skin. No anesthesia is required. Although numbing cream can be used.
Offer new set of service
Clinical Skin Clear (aka Lamprobe) services are generally offered by practitioners as a facultative, add-on service during standard skin care treatments or as a stand-alone service. As an add-on service, practitioners particularly appreciate that Clinical Skin Clear treatments are so rapid that they generally do not lengthen the duration of a client's regular treatment session.

Enquiry about the device
demonstration and purchase
on 9557 5755 or online

With clients desiring, valuing, and appreciating CSC services, CSC treatments are normally priced between $30-$150, per irregularity.
How Clinical Skin Clear can benefit your business
Immediate results with one treatment required only in most cases
Precise treatment of minor skin irregularities you on a daily basis
Rapid treatment time (3-5 seconds)
Significant revenue generation
Non-invasive
Simple & easy to use
Effectively treats a wide variety of common minor skin conditions
Minimum client discomfort
No anesthesia required
How does the Clinical Skin Clear work?
The Clinical Skin Clear works on the principle of liquids being attracted to heat, which is released by various sized probes.
A high frequency, radio wave current is conducted and attracted to the liquids on the skin's surface, or within the skin irregularity produce heat through its various treatment probes. This technology attracts fluids such: as sebum, cholesterol or blood; drying them out to effectively reduce or remove the skin irregularity.
Treatments are very quick (some within a minute), and some may not even touch the skin's surface
This technology enables therapists to treat skin abnormalities without penetrating the skin's surface
Can the Clinical Skin Clear be used in conjunction with a standard skin care treatment or facial?
It is actually generally recommended that the Clinical Skin Clear be used after a skin treatment, when the skin has been cleansed properly
It is precisely because the CSC is such an excellent add-on service during standard skin care treatments that the CSC has achieved such widespread popularity amongst skin care practitioners
Clients benefit from receiving a desired, value-added additional service and practitioners benefit from increasing revenues, without notably increasing the overall time of a regular treatment session
Can the Clinical Skin Clear be used in conjunction with a microdermabrasion or IPL treatment?
Following a microdermabrasion treatment, minor skin irregularities will become more visible and Clinical Skin Clear treatments can then be performed
What supplies are necessary to re-order?
4 different types of probes, depending on type and size of irregularity treated
Probe types: 012, Telangiectasia, Bar, and Tag Probes
Probes for single-use only
Probes can be reordered
What type of training is involved and is it required?
Training is required and is included with purchase package when it occurs at designated locations
Comprehensive practical training session, normally 3-4 hours in duration
Practitioners may be responsible for providing their own models for training session
Official training certificate granted, upon training completion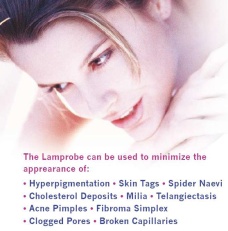 prices