Mole Removal clinic Location
For All Enquiries
Including General, Bookings, Accounts, Training or Comments
follow the link
MELBOURNE MOLE CLINIC is part of
LASER, SKIN AND WELLNESS
CHADSTONE MELBOURNE SHOP
Ground Floor Centre Office,
Chadstone Shopping Centre
MELWAY REF: 69 E4
p 03 - 9557 5755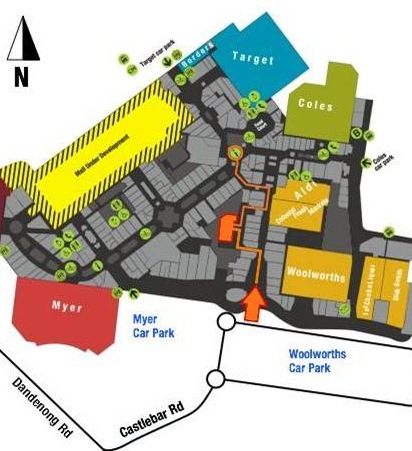 Directions
The most direct access to these premises is from the Woolworths car park accessed either directly from Dandenong Road or via Middle Road.
Best Parking: Near new transport terminal, Myer, Coles or the banks
Inside the shopping centre, Route 1
Find ALDI store
Next door to ALDI there's a huge fruit shop called "Colonial Fruit Market"
Opposite the fruit market, you will see a corridor stating 'Lift'
You'll need to follow the corridor to the very end and you'll come out to the foyer where we are located
Route 2
Find the entrance near Oriental Tea House and the UN Cafe Bar.
Inside the Centre, turn left at the lift/toilet sign just beyond Simon Johnson.
Follow the corridor until you see glass doors on the right.
Go through these doors to a vestibule where you will find our clinic.
Chadstone Shopping Interactive Map
Mole Removal in CHADSTONE
24hr CALL BACK SERVICE
24hr advisory call back line is available for your maximum piece of mind, following each of your Lesion Removal session or SKIN rejuvenation treatment or any other service or treatment we conducted!
If you have any concerns or questions in an evening time or on public holiday there is no need to "wait for Monday" anymore! Simply call and leave your details. A registered clinician on duty will call you back.


Prices