Lesions Removal Price
At Melbourne MOLE clinic we feel it is important to have a full and informed consultation.
Lesion removal consultations are $60, which is redeemable against the cost of any mole removal on the day or during the month.
Doctor complete head to toe inspection, or full body mole check, can be completed in 30 minutes and cost $99.
Up to 8 spots skin check cost $79.
At least $35 can be claim back through Medicare office.
To save time and money, download Moles and Doctor FACT SHEET and bring it your GP to sign. Then you can book for a consultation and treatment in one visit. Alternatively we can combine doctors mole checkup, consultation and treatment in clinic.

Lesion/Mole Removal Price | Skin tags Price |
Other Skin Irregularity
inc red moles, cholesterol deposits etc
Regular Price
Special Price

1 Mole

$85

$69
8 Moles Removal Pack
$680
$300
10 Moles
Remove & Heal Pack
incl Stratamed (Anti Scar Therapy Gel) +
Medicated Powder
$880
$400
Pigmentation

1 Area (small, size of $1 coin)

$75

$69
Full face | Décolleté | Neck
$250
$199
Doctor Mole Check Up & Consultation

Full Body Check

$99

Spot Check (max 8 spots)

$79
Other Products

Medicated Powder

$15
Stratamed (Anti Scar Therapy Gel)
$25

SPF 30+ Zinc Oxide sunscreen moisturiser

$45
Many people who promote natural mole and wart remedies talk endlessly about how much you can save if you use a DIY formula to eliminate unwanted benign growths.
There's no question that if you spend about $50 on a home remedy versus paying for a professional mole removal you'll save some money. But that's a very small part of the issue because the potential problems of making a bad choice are not limited to money alone.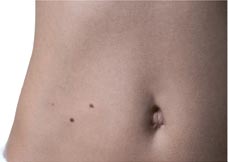 Prices