Growth Factor Medik8 - Melbourne Mole clinic
As we age, the level of EGF in our skin declines, leading to slower skin metabolism, lack of radiance and the appearance of fine lines and wrinkles.
The challenge is to restore the level of EGF within the skin, in order to activate its natural regeneration mechanisms
The youth activating complex works by promoting cell renewal & stimulates the growth of fibreblast cells responsible for the formation of collagen & elastin.
We also can report after tests and trails that
Medik8 Growth Factor helps heal skin after
mole removal, skin tag removal and pigmentation treatment.
Growth factors play fundamental roles in wound healing, by stimulating chemotaxis and cellular proliferation, by providing signaling among cells of the same and different type, by controlling extracellular matrix formation and angiogenesis, by regulating the process of contraction, and by re-establishing tissue integrity,
Growth factors are particularly useful at reversing the signs of ageing. EGF (Epidermal Growth Factors) have been proven to increase the number of epidermal cells and the production of collagen, elastin and hyaluronic acid to smooth lines and wrinkles, increase skin tone and refine skin texture.
Medik8 uses a triple-filtration method, to guarantee high activity, purity and safety profile, and a liposome delivery system for a better penetration.
MEDIK8 Growth Factor Benefits
Youth activating complex
Activates cell renewal
Increases epidermal cell proliferation
Stimulates the growth of fibroblast cells (responsible for collagen and elastin production)
Inhibits and prevents cellular breakdown
Helps the natural wound healing process
Minimises fine lines and wrinkles
Refines Skin texture
Add radiance to the skin
How to Use
Designed for all skin types, Medik8 Growth Factor Youth Activating Serum is the new must-have serum for those wishing to maintain or restore a younger looking skin.
Growth Factor Serum has been formulated for direct application to the face.
In the morning or evening, after cleansing, apply 5/6 drops directly to the skin and blend evenly across the whole facial area, neck and décolleté. Alternatively, place a drop on your finger and massage into the skin. Leave to absorb for 2-3 minutes. Follow with the application of other Medik8 Serum and Hydr8 SPF25 or your preferred SPF hydrator/sunscreen.
Priced at $ 140 best value EGF per 10 ml
Medik8 Skin Care
Why EGF?
Both causes of ageing (intrinsic and photo-ageing) result in lower levels of EGF in the skin. EGF has been clinically proven to stimulate both epidermal and dermal cells, resulting in increased cell regeneration and differentiation. EGF increases epidermal cell proliferation and the production of collagen and elastin in the skin: this means that the skin renews itself quicker, skin texture is more defined, and skin tone and elasticity is improved. This is visible anti-ageing performance.
Medik8 EGF Advantage
Medik8 EGF is one of only two known synthetic EGF's in the world (sh-EGF)
Medik8's unique triple filtration process guarantees activity, stability and safety
Read more about growth factors for wound healing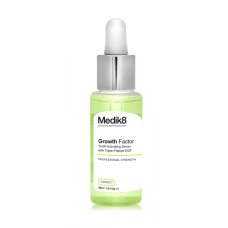 Prices